So many businesses need to accept bookings and appointments through their website. Since millions of such websites are based on WordPress, it follows naturally that there is a need for good appointment plugins for WordPress. The typical use case is a private practice (ie. Doctor, Hair Dresser, Fitness instructor, Massage Therapist, etc…)
We therefore went ahead and tested the options on the market and present you with the best ones we've found.
EDD Bookings is a WordPress plugin which integrates with the Easy Digital Downloads e-commerce platform, providing the best appointment booking solution for small businesses.
Site admins get a powerful interface that makes it easy to manage every detail necessary to match complex real-life situations, while visitors get an attractive, intuitive wizard that makes choosing, booking and paying for a suitable time slot a breeze.
All bookings are presented on the WordPress dashboard, giving the site admin at-a-glance awareness of all incoming bookings and payments.
The new version of EDD Bookings is currently being developed. You can follow its progress on the website here.
Feature highlights:
Simple, intuitive configuration for available dates and times.
Easy management of bookings and customers via the dashboard.
Supports single and multiple sessions per booking.
Works with all payment gateways supported by EDD.
 A beautiful, responsive wizard for your customers to book their appointments.
Pricing:
All prices are reduced by 60% upon launch of the new version in February 2018.
Single-Site – $79
2 – 5 Sites – $119
Unlimited Sites – $199
This is the official bookings extension from Woo themselves. It allows you to sell your time or date based bookings, adding a new product type to your WooCommerce site. Perfect for those wanting to offer appointments, services or rentals.
Feature highlights:
Create booking slots
Multi-person bookings
Customer email notifications
Have bookings made either right away, or sent to you for approval.
Filter and update bookings, as well as booking availability, directly from your WordPress admin.
Create bookings manually via the WordPress admin, mirroring the frontend bookings form your customers see.
There is huge flexibility in defining costs per booking, resource, block, people or duration.
Define when your booking is available to your customers.
"Resources" per bookable product for added flexibility. Resources can also be created globally, to apply to multiple bookable products.
Define global availability rules for all bookable products.
Integration with the Product Add-ons extension letting you add extras for each booking.
Send custom email notifications to people who have booked a product.
View bookings in either list or calendar format.
Pricing:
Single-Site – $249
5 Sites – $299
25 Sites – $449
BirchPress Scheduler is a well-coded plugin with an excellent user interface. It lets you book appointments either via the dashboard as an admin, or via the front end as a non-registered website user. You can define locations, staff, services as well as clients.
You can of course then create associations between them. For example a particular member of staff might be available at only one location at specified hours/days. He might also be able to perform a number of services but not all. Each service also has a number of settings including price, duration, and also padding time.
BirchPress Scheduler adds a new item in your dashboard menu named 'Scheduler', from which you can easily manage all the functionality of this scheduling and appointment system.
To have a better idea of how the plugin works check out the quick start guide, and don't forget that you can also try out the plugin via the online demo on the BirchPress website.
A very well-rounded plugin which also has 2 pro flavours giving you even more functionality.
Pro version prices:
Pro Personal – $99 – 1 site

Pro Business – $199 – 1 site
Pro Developer – $499 – 5 sites
Each support license is good for 12 months from the date of your purchase. Personal license users receive 25% off their renewal, Business license users receive 35% off their renewal and Developer license users receive 50% off their renewal. If your license expires, your scheduler and website will still work just fine but you won't have access to product updates, new features or the excellent product support or documentation that BirchPress provide as a service. Click here to view all the differences between the above plans.
The Pro Business and Pro Developer include PayPal integration so you can also accept payments when a client books an appointment.
Our rating: 8.5/10
BirchPress Scheduler is especially ideal for companies having multiple services, locations and staff, it's perfect for managing this combination.
CP Appointment Calendar is a WordPress plugin which allows you to define "available" time slots that can be booked by the website visitors. It's integrated with PayPal for receiving the booking payments.
It's pretty useful for booking/management of meetings/appointments for lawyers firms, teachers, doctors, veterinaries, beauticians, etc… and for any kind of activity which is developed with a specific schedule during the day.
The professional version ($25) of the plugin includes the following added functionality:
Allows to disable the Paypal payments
Can be used also as a Widget
Multi-site compatible
Includes all future updates and improvements made to this version
Includes 60 days of technical support
With the free version you are therefore forced to work with PayPal and accept payments on all bookings.
This is a simple and straightforward plugin that only allows you to enter one service and accept paid bookings for it. If you have multiple services, staff, or locations then this plugin is not for you.
It's major limitation is that it is inflexible. For example, when a customer wants to order, he needs to enter his name, phone, email, and comments. If you don't want one or more of these fields, you're stuck because the plugin doesn't allow you to remove them. The plugin author accepts requests for customization, however ideally you'd be able to do these things yourself through the plugin's administration interface.
The calendar display isn't exactly gorgeous either, would have loved to see something more modern and stylish.
Our rating: 6.5/10

This WordPress plugin will enable online booking services for your site. Visitors to your site will be able to check availabilityof apartments, houses, hotel rooms, or services you offer. They can also make reservations and appointments with the ability to choose from multi-day, single day, or by the hour booking. Your clients can even view and register for upcoming events. With integrated Paypal (also Sage and iPay88 payments systems) support your clients can pay online.
With the free version, you cannot accept payments, you'd have to go for one of the premium packages which start at $199 and go all the way up to $2499 for the full featured multisite version.
Booking Calendar does have a lot of features, at least when we're talking of the premium versions. I would use it for hospitality solutions such as hotels, guesthouses, hostels etc. For service providers BirchPress Scheduler is probably easier to set up and use.
Our rating: 8/10
Appointments+ is a powerful, flexible and easy-to-use plugin. Take, set and manage appointments and client bookings without having to leave WordPress. This appointment/booking plugin has a great user interface, based on WordPress UI, and is very easy to use, although it is very flexible and has many options. It also provides integration with Google Calendar.
Its multitude of features make this plugin is probably the best option if you are a service provider (possibly with a team of staff) and want to accept bookings for a number of time-based services. One should note that it also integrates with two other offerings from WPMUdev, MarketPress and Membership.
Check out this tutorial for tips on building an appointments system based on Appointments+.
Our rating: 9/10
The Bookly plugin is an easy-to-use and easy-to-manage booking tool for service providers who think about their customers. It supports a wide range of services provided by both businesses as well as individual service providers, offering reservations through your website.
It allows you to setup any reservations quickly, pleasantly and easily. It supports reservations for all types of services including:
beauty, massage, wellness and healthcare reservations
sports, trainings, dance, fitness, yoga or pilates appointments
scheduling learning and educational courses, tutors and helpers
organisation of special events and free-time activities
searching and booking of visits to photographers, stylists, placing requests for babysitters, dog-walkers etc.
Bookly offers interesting solutions to make the booking process as pleasant as possible for customers. The only thing that is required from the client is to complete 5 easy steps. The intuitive interface, as well as clear and attractive design make this process extremely easy.
Customers have the possibility to find a convenient time for their appointments, select service provider, book the time slot and even pay for the services. One more thing that will please your clients is the ability to view the available booking time intervals in their own time zone.
You can try it out for yourself (both on the front-end as well as the back-end) using their demo.
The WooCommerce Booking and Appointment plugin by Tyche Softwares transforms your WooCommerce shop into a full-fledged booking platform. It lets you capture the booking date and time for each service,
It's fully integrated with WooCommerce and can be used to create and manage all types of booking services. Whether you want to sell tickets, tours, hotel bookings, appointments or more, this plugin can do it for you.
Some of the many benefits of this plugin include the flexible labels that allow you to name your bookings as you want, the choice of a booking calendar in your language, the option to sell vacation rentals and volume discount rentals, and even the ability to accept bookings over the phone or by email.
If you have any calendar applications you can simply sync these with your bookings, and if there are any dates on which you want to block bookings you can do that too using the global and product specific "exclude days" rules.
Get WooCommerce Booking & Appointment Plugin by Tyche Softwares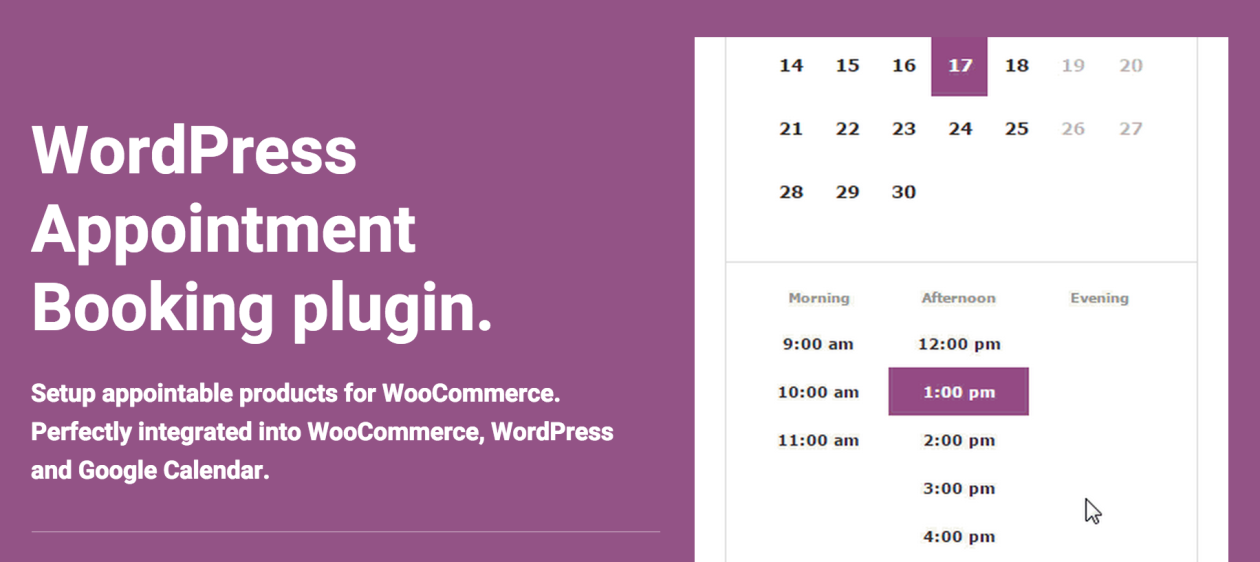 Setup appointable products for WooCommerce with the WordPress Appointment Booking Plugin. It is perfectly integrated into WooCommerce, WordPress as well as Google Calendar.
It's one of the best appointment scheduling software you can get right now. You can request payments or just confirmations, and it even allows you to receive payments for appointments. You'll be able to keep a perfectly organized calendar and reduce no-shows with advanced notifications and reminders.
It is very easy to add a new appointment manually for a customer. Besides adding new appointment in your website admin, you can also add new appointment to your Google calendar and it will be automatically synced. All email templates are also integrated with the WooCommerce notification system and can be edited the same way as default WooCommerce email notifications, while templates can also be edited in your child themes.
For a better overview of your appointments, you can view and edit your appointments inside a flexible calendar, and manage it in a weekly or daily view while being synced with staff as well as Google calendar. In addition, not only can you accept payments/deposits for your appointments, but you can also receive appointment requests. This way, you don't accept payments for your appointments upfront and have better control over the schedule.
Other Plugins
I also found and tested a few other plugins, however I didn't include them with the major ones above for one reason or another.
WP Simple Booking Calendar – I really like this one, it promises to do just one thing and does it well. Basically, it lets you create a clean calendar as a widget or in a post/page, and set the availability of whatever it is you are selling. Users cannot book themselves through the plugin, rather this is just for displaying availability. The pro version ($25) lets you create multiple calendars.
Appointy – While it works fine once you get it setup, this is really an interface between WordPress and Appointy.com (a third party) rather than a native WordPress plugin.
WP Online Booking System has similar features to BirchPress Scheduler, however the interface is completely alien to WordPress, it just looks like another system dumped into an iframe in the WordPress dashboard. Since I really don't like plugins which do this, I didn't feel it would be a good inclusion here. It also doesn't have any free version, instead you can get the Pay-As-You-Book version at $10/month, the Business version at $349 and the Multi Domain version at $849.
AppointZilla is another popular appointment booking calendar, we reviewed it a while back and I feel it is not as polished as other plugins, hence not included with the above.
easyReservations is a good plugin with many premium add-ons, however I don't like the fact that it creates a totally custom user interface rather than relying on the default WordPress UI. I also found the multitude of tooltips intended to help the user to be more of an annoyance than an aid. There appeared to be some bugs as well with the version I tested. This plugin seems mostly targeted towards the hospitality industry (hotels, guesthouses, hostels etc.).
Zingiri Bookings is another alternative targeted toward the hospitality industry, but again it has a completely non-WordPress interface, and I don't like the fact that it stores some of our data on the Zingiri servers.
The Events Calendar Pro (or its free version) is a very well-made plugin, but it's not really for taking appointments. Rather, it's for events, and also integrates with a number of services for ticketing (through add-ons). I just thought I'd mention it if someone was looking for this functionality, so here are the related add-ons: EDD Tickets, Eventbrite Tickets, Shopp Tickets, WooCommerce Tickets & WP E-Commerce Tickets. There are also a couple of other related plugins from Modern Tribe, and these are Facebook Events & Community Events.
It seems that this category of plugins for WordPress is not yet very well-defined. It's common to see users ask for refunds because this or that plugin didn't fulfil their needs. The main issue seems to lie in the fact that it's not that easy to distinguish what each plugin does and what it's target market is.
It might be helpful to categorise user needs and plugin types in the following sections:
Display calendar (for appointments)
Display calendar, let folks book appointments
Display calendar, let folks book appointments + e-commerce
Display calendar (for events)
Display calendar, let folks commit to the event
Display calendar, let folks commit to the event + e-commerce
Display calendar (for accommodation)
Display calendar, let folks book accommodation
Display calendar, let folks book accommodation + e-commerce
Other miscellaneous calendars
So yes, there are quite a number of different niches here, and I doubt if one single plugin can be useful for each and every niche. For some cases it might even not make any business sense for a plugin to be developed, hence you will need to seek custom development services.
Do you have any appointment plugins you could wholeheartedly recommend? And do you feel there are some needed features which the current batch of plugins don't cater for?
If you enjoyed this post, make sure to subscribe to WP Mayor's RSS feed.